KEY POD is a smart  key box for chastity lock keys  - Bluetooth remote control  by QIUI.
Control at any time With bluetooth 
Connect bluetooth box and unlock through APP.  Even if it's in a different city or country, tap into the interaction.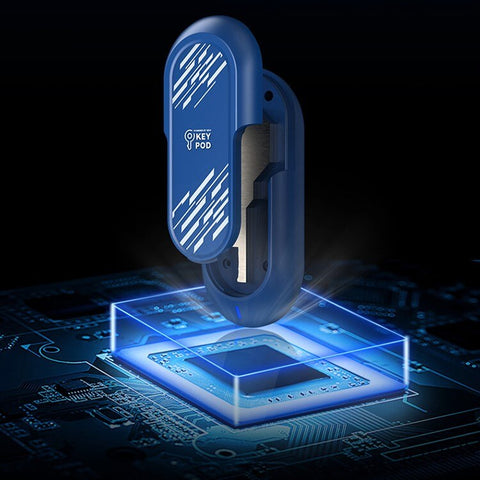 Charge whenever you arrive, full power, Type-c charging port, charging through mobile phone and computer.  Built-in lithium battery, charge once, standby half a year, unlock 500 times.  
The thrill of the countdown. Here are the keys.  A function belonging to an authorized authority.  Hour and minute Settings.  When the time comes to "click", the lock is released.  
Lock records are available. Everything's under control.  Record the unlock moment, bluetooth small lock to grasp the "click" bit by bit, all here.  
Small and exquisite convenient storage and carry.  The size is indistinguishable from a USB flash drive.  
Net weight: 20g
package size: 81.5*22*96 mm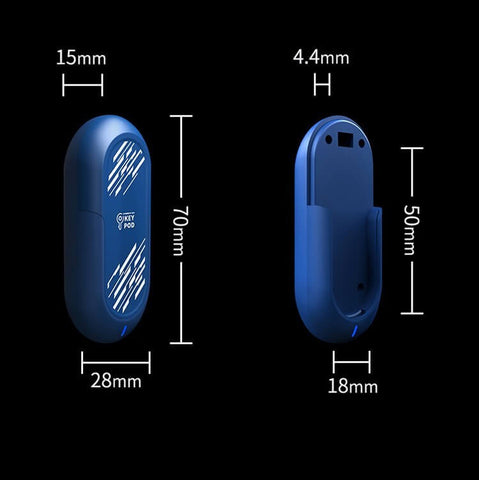 More features:
Fully charged in one hour  
Environmental protection soft rubber material  
Lock opening records are available  
Timing setting unlocking  
How to download APP: Search for "QIUI" in APP store or Play store.
After install QIUI APP, click + and select the "KEY POD" as below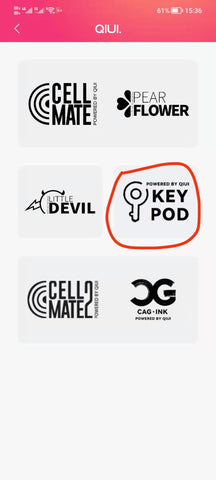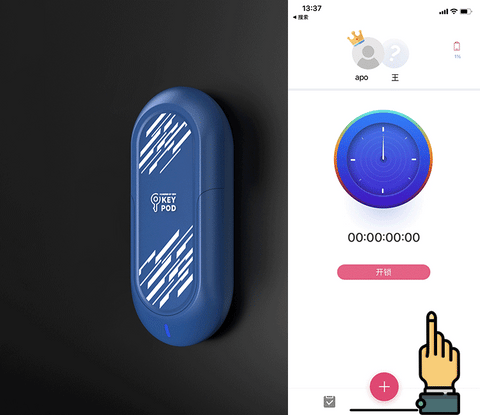 Keypod Guide:
1. Hold down the device button until the blue light is turned on.
2. After release, the device blinks green, indicating that the device is waiting to be connected.
3. Click "+" in the upper right corner of QIUI APP to search for bound devices.
4. After the device is bound, click Device Auto Connect on the list page. Bluetooth blinks after the device is connected.
key POD key box is an app-controlled device. For cock cage, it is a smart key box. Put the key of the rooster cage in the key box, let your partner control the box, and unlock it through the QIUI app. Even if you hold the key box, you can't open it in case your penis wants to escape. This is controlled by long-distance control by its Bluetooth settings by QIUI. You have to connect this Bluetooth box and unlock it by the app so you can control it every time by its Bluetooth. Even when it is in a different country or in a different city you can easily connect it by tapping on the interplay. It has ideal timing unlocking settings, you can feel the excitement of the countdown. It has functions related to authority or authentication. It has got a minute or hour setting. When you click it then its lock will be totally released. It's opening of lock records is totally there for you. 

 Its available lock record is just superb as each and everything is totally under control. Its unlock instant is recorded and its small lock of Bluetooth is suitable to grasp its click slowly. The toy with its unique features and design is available in beautiful blue color. This color and its beautiful design have made the toy totally appealing. Anyone who looks at it will start loving its look. This charming pleasure toy is made up of rubber material which is smooth and environmentally friendly.

You can charge it whenever you want to charge it. It has a type C charging port and full strength. You can charge it by computer or mobile phone as it has got the support of these charging systems. It has a good lithium battery. It stands for half a year and can be unlocked 500 times. To charge it fully for once requires one hour. It has small and beautiful storage which is very convenient. You can carry it easily with yourself. Its size is identical to a USB flash drive. This Key POD key box is the best among all toys of this type.