The Sevanda Ergo Chastity Cage is designed to be as comfortable, natural and functional as possible. Hundreds of hours have been spent extensively on designing and researching on the best material to use to manufacture the cage. 

The Cage Body
Sevanda Ergonomical Cage is thoughtfully designed with an appropriate downwards angle that conforms to the natural contours of a flaccid penis. At this angle, it remains discreetly hidden under clothing and at the same time not putting on downwards pressure on the penis. 

The cage is polished with the latest sanding technology that ensures the whole surface (both interior and exterior) is smooth. There will be no sharp edges or joints that cause discomfort in wearing. 

Sevanda Ergo Cage is made of all-natural plant resin. This material is hypo-allergenic to the skin, very light in weight and very durable. The entire cage weighs merely 41g (1.5ounces) which is far lighter than most chastity cages on the market. It feels like almost wearing nothing and does not affect the user in their daily activities like moving around or even simple to moderate exercises. 

This material is also excellent in heat dissipation. This result in a lesser occurence of a moist and sweaty cage interior which greatly improves the overall hygiene when wearing the cage for a long period. 

The Fastenable Clasp Base Ring
Another feature of S.evanda Ergo Cage is the base ring. Putting on the base ring to a chastity cage has long been a challenge to many people, especially beginners. The fastenable clasp design is the apt solution to this problem. Users will be able to put on and remove the base ring easily. There is no need to wait for the penis to become entire soft to put on the cage now. 

The Lock  
This high-quality cage comes equipped with a mortice lock that attaches within the top part of the cage's body for a more seamless look under clothing. The lock is also fixed in position and should not produce any jiggling or sounds when moving around while wearing it. The lock is made of bronze which is resistant to rusting, it can be used in the shower without worrying about rusting (however, bronze may tend to be corroded by slightly acidic liquids such as our sweat or pee so it is recommended to rinse the lock periodically and keep it as dry as possible). 

The Ergo Cage is an excellent premium chastity device to curb your man's wandering hands. It is perfect for beginners as well as users who are looking for a stylish and comfortable cage.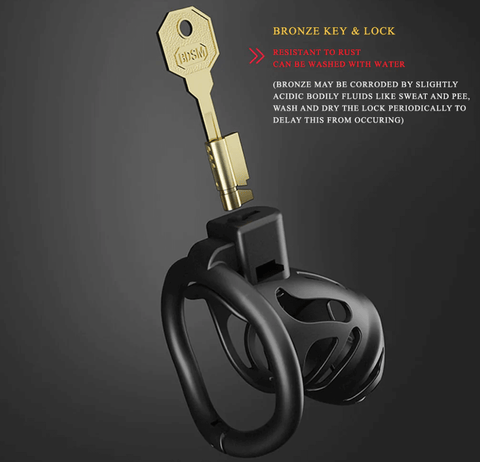 What's included in the package:
-1 Cage Body
-1 Set of Fastenable Clasp Base Ring (Small Rings Kit Included 3 different sizes  of 40mm 45mm and 50mm/Big Rings Kit Included 3 different sizes  of 45mm 50mm and 55mm)
-1 lock with 1 pair of lock keys
-3 pieces of silicone sheath (to put over the base rings if required to reduce chaffing)
-Premium gift box packaging (Perfect for gifting)